Sichuan

Jianghuai

power

forklift

company limited
Address:Chengdu City gold house Hardware Electrical City 42 12
Telephone:028-61368500 028-61368600
Fax:028-61368399
Mobile phone:18328751552 18328751553
QQ:522478985
Sichuan Jianghuai power forklift company limited, is a professional engaged in fork lift trucks, excavators and other engineering machinery development and production of high-tech enterprises. Anhui Jianghuai UnionPay Heavy Engineering Machinery Company Limited ( hereinafter referred to as the heavy industry ), is a large domestic automobile group company -- Anhui Jianghuai Automobile Group Company Limited ( hereinafter referred to as JAC ) under the subsidiary, as JAC heavy plate core businesses, the company specialized in the fork type loading and unloading vehicle development and production. The predecessor of the company -- Hefei mining machinery factory, has forty years of engineering machinery R & D and manufacturing history, is known as " the cradle of China Construction machinery ".
The heavy industry since its inception, uphold JAC " to create better products, to create a better society " business vision, "quality is the survival and development of the " as the core values, adhere to quality benefit road, adhere to the " quality first " value orientation. Company to " series of products, the operation of human nature, automation, energy saving and environmental protection " of the product portfolio for the development of direction, have R & D and production of 3 major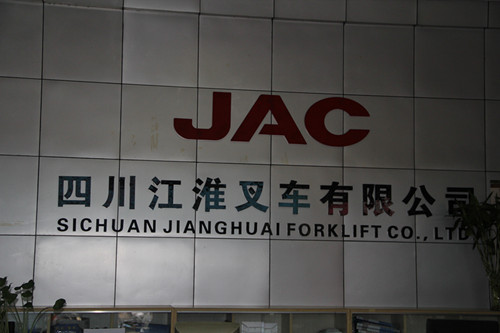 categories, 8 series, 20 platforms, 45 varieties, included 1 ~ 10 tons of internal combustion forklift truck, 1~ 3 tons forklift truck, 1 ~2 tons of electric tractor, trucks, platform trucks and the lifting height of the work apparatus, has all kinds of more than 90 patents, product performance by the national construction machinery quality supervision and inspection center and the user's recognition and praise. At the same time, companies use the advantages of JAC parts, transmission, axles, engine and other key parts are implementation of independent research and development and production; JAC forklift became the only company has its own brand of high-quality engine forklift host plant. Independent research and development of " H series of internal combustion forklift truck " by industry associations as " annual most influential models ", " J series of internal combustion forklift truck ", " J series of electric forklift ", " high-speed off-road forklift " was assessed as " provincial-level new products ". Excellent in manufacturing, through the strict examination, forklift products by the Chinese people's Liberation Army the General Logistics Department 's favor, some products included in the arms procurement directory, military truck through army acceptance into use. In 2011, the company obtained the Chinese government assistance in Soviet Vietnam 360 forklifts large, this explains our company forklift quality has obtained the domestic and foreign have identity. In 2012 April, the international market in order to obtain a breakthrough, from March the growth rate of 150%, compared with the same period last year increased by 120%. In 2012 April, has received from Brazil, Russia, Ecuador, Turkey, Saudi Arabia, Iran, nearly twenty countries and regions of the merchants. International marketing department personnel to the merchants who introduced Jianghuai forklifts products, technical performance, characteristics and advantages, and accompanied the merchants who visited the forklift production line, customers are the company's product performance and quality of products to give a high evaluation.
Sichuan Jianghuai forklifts Limited was founded in 1999. Professional engaged in forklift truck sales, sales of spare parts, overhaul of the business. Long term is overhaul, the transformation of the business, a great exercise Sichuan Branch staff's working ability, and has accumulated rich experience, and won the majority of customers in a good reputation. The company is now the JAC forklift vehicle sales, spare parts, replacement of old vehicles. After sale service, technical advice as one of the four S patterns of Sichuan branch. Chengdu Sales Company is located in Jinniu District Hardware Electrical City 42 No. 12 ( phone: 028-61368500 ). The service station is located in locomotive vehicle factory gate right side of 150 meters. At the same time services to undertake the various types of forklift plant repair business. Let customer satisfaction is our aim, accessories companies to provide various plant forklift parts, so that the majority of customers to solve all problems that remain within doors, forklift truck! High quality Jianghuai JAC forklift, good after sale service, first-class Sichuan Jianghuai forklifts Limited will lend a helping hand for your career success!